Must-visit beaches near Silicon Valley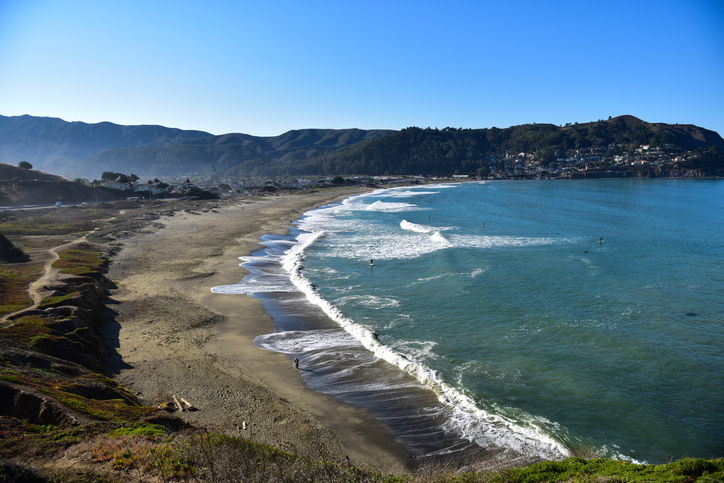 Beautiful beaches are not limited to Southern California. There are great ones in this side of the coast, too.
The following beaches are especially favored among Silicon Valley locals for after-work thrills.
Linda Mar/Pacifica State Beach
Pacifica, CA
Pacifica State Beach is approximately 2 hours from San Jose via I-280 or US-101. Located south of San Francisco, it is popular among local surfers who call the beach Linda Mar.
Although Linda Mar is often frequented, there is plenty of beach to stretch out and hit the waves. Beginners gather at the south end, where waves are gentler. There are even surf camps located along the stretch. Meanwhile, the north part of Linda Mar attracts the advanced and professional surfers.
Gray Whale Cove State Beach
Half Moon Bay, between Pacifica and Montara, CA
From Pacifica, cruise south along Highway 1 until you find the Devil's Slide battery, noticeable for its collection of graffiti. Park your car, get out, and admire Gray Whale Cove, hidden from unassuming passersby.
Towering cliffs protect this beach, which is also known as Devil's Slide. From the top, a steep trail will lead you down where the big swell meets the shore. This wooden staircase is not for the faint of heart.
What waits below is worth it, however. Advanced surfers brave the technical waves, said to be among the most challenging in Northern California. That said, the swells here tend to come and go.
Not surfing? On a special day, you might be able to glimpse great pods of gray whales on their way south to warmer waters.
Montara State Beach
Half Moon Bay
Montara State Beach is not as sheltered as Gray Whale Cove, but it offers plenty of surprises. Located about 8 miles from Half Moon Bay, it is one of the best places to observe local wildlife, surf, and watch the sun set.
Surfing can get technical in Montara State Beach, with the undertow capable of being powerful. Surfers often report riding alongside dolphins. These marine mammals are not the only frequent visitors at Montara State Beach. Look up and you might find pods of pelicans in impressive formations.
At dusk, the sky is a beautiful gradient of sunset colors, perfect for romantic dates. There are also a handful of great restaurants nearby. Take a loved one here.
Princeton Jetty
Half Moon Bay
Surf or skate– Princeton Jetty attracts individuals who love to be on a board. You can skate half pipes one moment, then don a wetsuit and attempt to ride the tide.
Princeton Jetty can be intimidating. The shore is rocky, which can be a challenge for novice surfers. On certain days, the waves are non-existent. But Princeton Jetty is most famous for its perfect, technical barrel which comes out once in a blue moon.
There are other activities here. Watching the crowd can be entertaining. A variety of restaurants are also a short distance away.
Explore Silicon Valley real estate
Discover all the possibilities that come with living in Silicon Valley. Contact David and Sunny today at 650-489-6251 or davidandsunny(at)compass(dotted)com.