University South, Palo Alto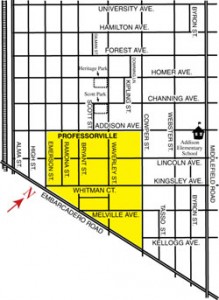 University South has homes that are more than 100 years old. But since the neighborhood lies outside the historic borders of Professorville, renovations on homes can be done with much less red tape to cut through.
FACTS
CHILDCARE AND PRESCHOOLS: Addison Kids' Club, 650 Addison Ave.; Downtown Child Care Center — CCLC, 848 Ramona St.; First School, 625 Hamilton Ave.; The Learning Center, 459 Kingsley Ave.
FIRE STATION: No. 1, 301 Alma St.
LIBRARY: Downtown branch, 270 Forest Ave. (temporarily closed for renovations)
LOCATION: bounded by Homer Avenue, Alma Street, Embarcadero and Middlefield roads
NEIGHBORHOOD ASSOCIATION: Elaine Meyer, 650-325-8057
PARKS: Scott Park, Scott Street and Channing Avenue; Palo Alto Heritage Park, Homer Avenue and Waverley Street
POST OFFICE: Hamilton, 380 Hamilton Ave.
PUBLIC SCHOOLS: Addison Elementary School, Jordan Middle School, Palo Alto High School
SHOPPING: University Avenue, Town & Country Village
CLICK HERE to view current University South Listings