Triple El, Palo Alto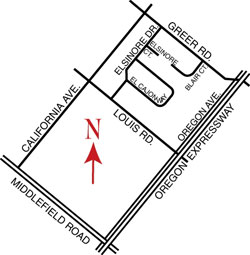 Residents are known to look after each other, to bring meals when they are sick, pick up their neighbor's newspaper when they are gone and babysit their neighbor's children.
Surrounded by North California Avenue and Oregon Expressway and by Louis and Greer roads, the three neighborhood streets — Elsinore Drive, Elsinore Court and El Cajon — appeal to newcomers with their Eichler design, contemporary architecture, "California Modern" home style and Elsinore Drive's beautiful row of 44 Chinese elm trees.
The small-village atmosphere is bolstered by the residents' willingness to celebrate events during the year. Most neighbors show up at the New Year's Day Mummers Parade, a Memorial Day's barbecue and a fall ice cream social.
Today, it is common to see Elsinore Drive filled with groups of children walking, biking or skateboarding to their school.
In addition to its architecture and friendly atmosphere, Triple El is what the residents called "going green." Some people have been worried about the lack of water in the area.
FACTS
CHILDCARE AND PRESCHOOLS (NEARBY): First Congregational Church Nursery School, 1985 Louis Road; Parents Nursery School, 2328 Louis Road; Duveneck Kids' Club, 705 Alester Ave.
FIRE STATION: No. 3, 799 Embarcadero Road
LIBRARY: Main Library, 1213 Newell Road
LOCATION: Elsinore Drive, Elsinore Court and El Cajon
PARKS (NEARBY): Rinconada Park, 777 Embarcadero Road; Greer Park, 1098 Amarillo Ave.
POST OFFICE: Main, 2085 E. Bayshore Road
PUBLIC SCHOOLS: Duveneck Elementary School, Jordan Middle School, Palo Alto HighSchool
SHOPPING: Midtown
CLICK HERE to view current Triple El Listings