St. Claire Gardens, Palo Alto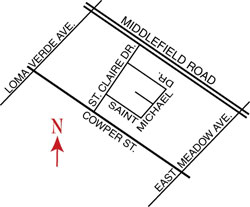 In a city known for Eichler communities, St. Claire Gardens proves to be an aberration. Rather than a tract of homes with low-sloping roofs, atriums, glass walls, concrete floors and other modernist features, the homes populating St. Claire Drive, St. Michaels Drive and St. Michaels Court follow a more conventional design.
The Roman Catholic Archdiocese of San Francisco developed St. Claire Gardens in the early 1950s, around the same time Joseph Eichler designed nearby Fairmeadow.
St. Claire Gardens would be enclosed from the rest of Palo Alto if not for two outlets on St. Claire Drive, leading to Middlefield Road and Cowper Street, respectively. Because little traffic filters in, the streets remain quiet, a fact emphasized by the expansiveness of the streets, birds chirping in trees and basketball hoops sitting against sidewalks.
The evening brings the children out. The few roaming the street on this day say hello and goodbye to each other as they head home, the sun already set, the sky darkening. A boy zigzags his skateboard through the street; and two girls tuck basketballs under their arms as they walk away.
FACTS
CHILDCARE AND PRESCHOOLS (nearby): Mini Infant Center of Palo Alto, 3149 Waverley St.
FIRE STATION: No. 4, 3600 Middlefield Road
LIBRARY: Mitchell Park branch, 3700 Middlefield Road
LOCATION: St. Claire Drive, St. Michaels Drive and St. Michaels Court
PARKS (nearby): Hoover Park, 2901 Cowper St.; Mitchell Park, 600 East Meadow Drive
POST OFFICE: Cambridge, 265 Cambridge Ave.; Main, 2085 E. Bayshore Road
PRIVATE SCHOOLS: International School of the Peninsula, 3233 Cowper St.; Keys School, 2890 Middlefield Road
PUBLIC SCHOOLS: El Carmelo or Fairmeadow elementary schools, J.L. Stanford Middle School, Gunn High School
SHOPPING: Midtown Shopping Center, Middlefield Road and Colorado Avenue; also Middlefield Road at Loma Verde Avenue
CLICK HERE to view current St. Claire Gardens Listings