Southgate, Palo Alto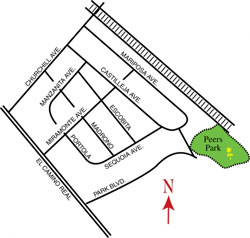 Southgate's narrow, tree-lined streets are accessible only from El Camino and Churchill, discouraging any through traffic and making the neighborhood's contained environment peaceful and safe. A circular street setup includes pedestrian walkways, giving residents easy access to the park, Stanford and main streets.
The neighborhood land was previously owned by the Stanfords. The property was subdivided in the 1920s, and was named Southgate because it bordered the southern side of Stanford University. Original homes included a few constructed by Glenn "Pop" Warner of Pop Warner football who coached Stanford football in the 1920s and '30s.
With the variety of rebuilding and remodeling done over the years, Southgate today hosts an eclectic assortment of homes, including a "castle-theme" residence and a converted grocery store and body shop.
The trend in the '80s was to add second stories to older homes but in the '90s that changed. Southgate homes were often demolished and rebuilt with full basements to make the most of space. And while the trend towards building huge houses on small lots seems to have died out, construction activity in Southgate is high.
Southgate's community feel is a defining element of the neighborhood, residents said. And while there is no neighborhood association, Southgate has an active Neighborhood Watch program.
FACTS
CHILDCARE AND PRESCHOOLS (nearby): Casa dei Bambini, 457 College Ave.; Escondido Kids' Club, 890 Escondido Road; Walter Hays Kids' Club, 1525 Middlefield Road
FIRE STATION: No. 6, 711 Serra St. on the Stanford Campus
LIBRARIES: Main Library, 1213 Newell Road; and College Terrace branch, 2300 Wellesley St.
LOCATION: between Churchill Avenue and Park Boulevard, El Camino Real and Mariposa Avenue
NEIGHBORHOOD ASSOCIATION: Jim McFall, wmjmcfall@yahoo.com, 650-327-4428
PARK: Alexander Peers Park, 1899 Park Blvd.
POST OFFICE: Cambridge, 265 Cambridge Ave.
PUBLIC SCHOOLS: Escondido and Walter Hays elementary schools, Jordan Middle School, Palo Alto High School.
SHOPPING: Town & Country Village; California Avenue
CLICK HERE to view current Southgate Listings