South Of Midtown, Palo Alto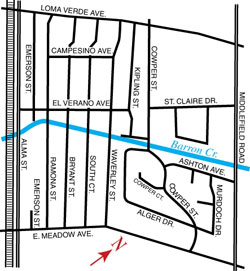 The front yards of the South of Midtown neighborhood are littered with Razor scooters and half-sized dirt bikes.
The neighborhood is bordered by Middlefield Road, Alma Street, Loma Verde Avenue and East Meadow Drive.
FACTS
CHILDCARE AND PRESCHOOLS (NEARBY) : Besse Bolton Kids' Club, 500 E. Meadow Drive; Milestones Preschool, 3864 Middlefield Road; Covenant Children's Center, 670 E. Meadow Drive; El Carmelo Kids' Club, 3024 Bryant St.; Grace Lutheran Preschool, 3149 Waverley St.
FIRE STATION: No. 4, 3600 Middlefield Road
LIBRARY: Mitchell Park branch, 4050 Middlefield Road (temporary location during construction)
LOCATION: bounded by Loma Verde Avenue, East Meadow Drive, Middlefield Road and Alma Street
NEIGHBORHOOD ASSOCIATION: part of Midtown Residents' Association, Sheri Furman, 650-856-0869
PARKS: Mitchell Park, 3600 E. Meadow Drive; Hoover Park 2901 Cowper St.
POST OFFICE: Cambridge, 265 Cambridge Ave.
PRIVATE SCHOOLS (NEARBY): International School of the Peninsula, 3233 Cowper St.; Challenger School, 3880 Middlefield Road; Keys School Lower Campus, 2890 Middlefield Road
PUBLIC SCHOOLS: El Carmelo and Fairmeadow elementary schools, J.L. Stanford Middle School, Gunn High School
SHOPPING: Midtown Shopping Center, Middlefield Road and Loma Verde Avenue; Charleston Center
CLICK HERE to view current Professorville Listings