Professorville, Palo Alto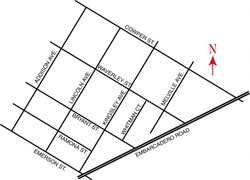 Palo Verde is a neighborhood of mostly Eichler and Eichler-inspired homes bordered by West Bayshore and Middlefield roads to the east and west, and Loma Verde Avenue and East Meadow Drive to the north and south. Much of the area's street plan of narrow roads and cul-de-sacs was designed to keep traffic to a minimum and to foster a sense of community.
Over the years, Palo Verde has experienced noticeable shifts in its residents' ages and household makeup. Young, mostly blue-collar families began moving into Palo Verde during the 1960s and '70s, drawn by the area's relative affordability and its numerous schools. By the late 1970s and '80s, young families had given way to empty-nesters whose kids had grown and left.
Recently completed developments, such as SummerHill Homes' Echelon, Classics at Sterling Park, and Warmington Home's Vantage, have increased the number of young families moving into the Palo Verde area.
Palo Verde residents have formed bonds through organizations and clubs, including the reconstituted Palo Verde Residents Association.
FACTS
CHILDCARE AND PRESCHOOLS (NEARBY): Addison Kids' Club, 650 Addison Ave.; Downtown Child Care Center — CCLC, 848 Ramona St.; The Learning Center, 459 Kingsley Ave.
FIRE STATION: No. 1, 301 Alma St., and No. 3, 799 Embarcadero Road
LIBRARY: Downtown branch, 270 Forest Ave. (temporarily closed for renovations)
LOCATION: bounded by Kingsley and Addison avenues from Cowper to Ramona streets
PARKS: Scott Street Mini Park, Scott Street and Channing Avenue; Heritage Park, Homer Avenue and Waverley Street
POST OFFICE: Hamilton, 380 Hamilton Ave.
PRIVATE SCHOOL (NEARBY): Castilleja School, 1310 Bryant St.
PUBLIC SCHOOLS: Addison Elementary School, Jordan Middle School, Palo Alto High School
SHOPPING: University Avenue; Town & Country Shopping Center
CLICK HERE to view current Professorville Listings