Palo Verde, Palo Alto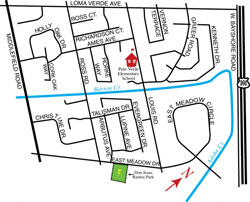 Palo Verde is a neighborhood of mostly Eichler and Eichler-inspired homes bordered by West Bayshore and Middlefield roads to the east and west, and Loma Verde Avenue and East Meadow Drive to the north and south. Much of the area's street plan of narrow roads and cul-de-sacs was designed to keep traffic to a minimum and to foster a sense of community.
Over the years, Palo Verde has experienced noticeable shifts in its residents' ages and household makeup. Young, mostly blue-collar families began moving into Palo Verde during the 1960s and '70s, drawn by the area's relative affordability and its numerous schools. By the late 1970s and '80s, young families had given way to empty-nesters whose kids had grown and left.
Recently completed developments, such as SummerHill Homes' Echelon, Classics at Sterling Park, and Warmington Home's Vantage, have increased the number of young families moving into the Palo Verde area.
Palo Verde residents have formed bonds through organizations and clubs, including the reconstituted Palo Verde Residents Association.
FACTS
CHILDCARE AND PRESCHOOLS: Palo Verde Kids' Club, 3450 Louis Road
FIRE STATION: No. 4, 3600 Middlefield Road
LIBRARY: Mitchell Park branch, 4050 Middlefield Road (temporary location during construction)
LOCATION: between Loma Verde Avenue and East Meadow Drive, Middlefield and West Bayshore roads
NEIGHBORHOOD ASSOCIATION: Palo Verde Residents Association, Boris Foelsch, borisfoelsch@gmail.com
PARKS (NEARBY): Don Jesus Ramos Park, 800 E. Meadow Drive; Henry W. Seale Park, 3100 Stockton
Place
POST OFFICE: Main, 2085 E. Bayshore Road
PUBLIC SCHOOLS: Palo Verde Elementary School, J.L. Stanford Middle School, Gunn High School
SHOPPING: Midtown Shopping Center, Middlefield Road and Colorado Avenue; also Middlefield Road at Loma Verde Avenue
CLICK HERE to view current Palo Verde Listings