Palo Alto Orchards, Palo Alto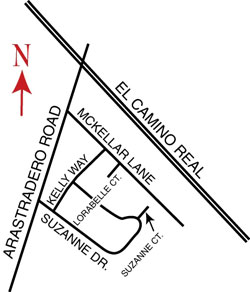 A mother and her daughters sell Girl Scout cookies to their neighbors, walking door-to-door through several cul-de-sac streets that make up Palo Alto Orchards. This is the second generation the neighborhood has seen grow up and most of the cookie-cutter tract houses that were built after World War II have been remodeled to contemporary aesthetics.
FACTS
CHILDCARE AND PRESCHOOLS: Palo Alto Montessori School, 575 Arastradero Road; Young Life Christian Pre-School, 687 Arastradero Road
FIRE STATION: No. 5, 600 Arastradero Road
LIBRARY: Mitchell Park branch, 4050 Middlefield Road (temporary location during construction)
LOCATION: includes McKellar Lane, Suzanne Court, Suzanne Drive, Kelly Way, Lorabelle Court and Arastradero Road
NEIGHBORHOOD ASSOCIATION: John Spiller, rice49er@pacbell.net
PARKS: Juana Briones Park, 609 Maybell Ave.; Terman Park, 655 Arastradero Road
POST OFFICE: Cambridge, 265 Cambridge Ave.
PRIVATE SCHOOL: Bowman International School, 4000 Terman Road
PUBLIC SCHOOLS: Juana Briones Elementary School, Terman Middle School, Gunn High School
SHOPPING: El Camino Real, San Antonio Shopping Center
CLICK HERE to view current Palo Alto Orchards Listings