Palo Alto Hills, Palo Alto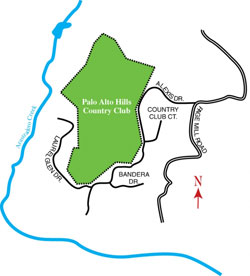 Life in Palo Alto can be fast-paced, and it can be difficult to find open space, wildlife or nature. But, take a drive up to the Palo Alto Hills, and you can find all of that and then some.
Palo Alto Hills is located above Interstate 280 and consists of long, windy roads that lead up to its 78 households. The neighborhood is quiet and diverse with long trails perfect for biking, jogging or hiking.
With the neighborhood being so secluded, it is a peaceful place for residents to get away from their hectic work life. Nonetheless, some feel that it's too isolated. With the nearest grocery store being almost five miles away, residents need to learn to adjust to traveling long distances to get places.
Despite the quiet and seclusion, there is a sense of community: An annual Christmastime get-together is organized by the Palo Alto Hills Neighborhood Association (PAHNA) to bring the neighbors closer together.
FACTS
FIRE STATION: No. 8, Foothills Park, 3300 Page Mill Road (during summer); No. 5, 600 Arastradero Road
LIBRARY: Mitchell Park branch, 4050 Middlefield Road (temporary location during construction)
LOCATION: off Page Mill Road: Alexis Drive, Country Club Court, Bandera Drive and Laurel Glen Drive
NEIGHBORHOOD ASSOCIATION: Palo Alto Hills Neighborhood Association, Mark Nadim, president, 650-949-5672; pahnaorg@pahna.org
PARK: Foothills Park, 3300 Page Mill Road
POST OFFICE: Cambridge, 265 Cambridge Ave.
PUBLIC SCHOOLS: Nixon Elementary School, Terman Middle School, Gunn High School
SHOPPING: El Camino Real, Downtown Los Altos, California Avenue
CLICK HERE to view current Palo Alto Hills Listings