Old Palo Alto, Palo Alto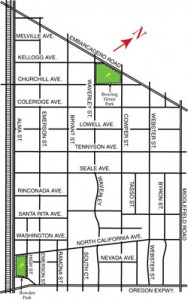 Gamble Garden, a 2.5-acre public oasis featuring diverse demonstration and formal gardens, educational programs and grand historic buildings, lies at the heart of the Old Palo Alto neighborhood.
A crown jewel of the city, the garden, residents say, is representative of the things they love about their neighborhood as a whole: beautiful architecture, lush, well-tended greenery and a friendly atmosphere.
Old Palo Alto, which stretches from Alma Street to Middlefield Road and between Embarcadero Road and the Oregon Expressway, is one of the city's wealthiest and most desirable, popular with such local celebrity Steves as footballer Steve Young and Apple honcho Steve Jobs.
FACTS
CHILDCARE AND PRESCHOOLS (NEARBY): Neighborhood Infant-Toddler Center, 311 N. California Ave.; Walter Hays Kids' Club, 1525 Middlefield Road
FIRE STATION: No. 3, 799 Embarcadero Road
LIBRARY: Main Library, 1213 Newell Road
LOCATION: between Embarcadero Road and Oregon Expressway, Alma Street and Middlefield Road
NEIGHBORHOOD ASSOCIATION: Old Palo Alto Neighborhood Association (OPANA), Nadia Naik, nadianaik@gmail.com
PARKS: Bowden Park, Alma Street and California Avenue; Bowling Green Park, 474 Embarcadero Road; Kellogg Park, next to Bowling Green Park
POST OFFICE: Cambridge, 265 Cambridge Ave.
PRIVATE SCHOOL: Castilleja School, 1310 Bryant St.
PUBLIC SCHOOLS: Addison or Walter Hays elementary schools, Jordan Middle School, Palo Alto High School
SHOPPING: Town & Country Village; Midtown
CLICK HERE to view current Old Palo Alto Listings