Monroe Park, Palo Alto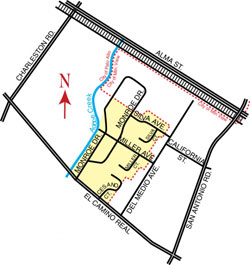 The park itself, a small, gently sloping plot marked by a swing-set and a pair of benches, serves as a centerpiece for the neighborhood and is the popular destination of many a late-afternoon and evening stroll.
Framed by Adobe Creek to the west, El Camino Real to the south, Del Medio Avenue to the east and railroad tracks to the north, Monroe Park is divided along a zigzagging northeast-southwest axis that distinguishes Palo Alto residents from their Mountain View neighbors.
A stroll around the Monroe Drive loop reveals quaint bungalows nestled beside towering two-story Mission-style homes, in a subdued, earthy palette of greens, browns, beiges and teals. Small details, like wood-paneled garage doors, bright window frames and rustic roof shingles, lend each home a distinct and quietly surprising air.
FACTS
CHILDCARE AND PRESCHOOLS (NEARBY): Children's Corner, 97 Hillview Ave., Los Altos; Gideon Hausner Jewish Day School, 450 San Antonio Road, Palo Alto; Growing Tree Montessori Preschool, 450 W. Charleston Road, Palo Alto
FIRE STATION: No. 5, 600 Arastradero Road
LIBRARY: Mitchell Park branch, 4050 Middlefield Road (temporary location during construction)
LOCATION: bounded by Adobe Creek, El Camino Real and Mountain View borders (near Silva Avenue)
NEIGHBORHOOD ASSOCIATION: Monroe Park Neighborhood Association, Linnea Wickstrom, president, flrpowr@sbcglobal.net
PARKS: Monroe Mini Park, Monroe Drive and Miller Avenue
POST OFFICE: Cambridge, 265 Cambridge Ave.
PUBLIC SCHOOLS: Los Altos School District — Santa Rita School, Egan Junior High School; Mtn. View-Los Altos Union High School District — Los Altos High School
SHOPPING: San Antonio Shopping Center
CLICK HERE to view current Monroe Park Listings