Midtown, Palo Alto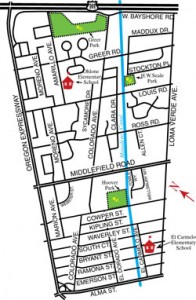 The focus on residential life is key to the culture of Midtown, which extends from Oregon Expressway to Loma Verde Avenue and Alma Street to West Bayshore Road.
The Midtown Residents Association has focused on preserving the neighborhood feel that sets the area apart.
In addition to successfully asking the city council to keep the shopping district strictly commercial, members hold monthly meetings and block parties and threw their 10th annual ice cream social in September.
FACTS
CHILDCARE AND PRESCHOOLS: Grace Lutheran Preschool, 3149 Waverley St.; Love'n'Care Christian Preschool, 2490 Middlefield Road; Mini Infant Center of Palo Alto, 3149 Waverley St.; Ohlone Kids' Club (PACCC), 950 Amarillo Ave.; Palo Alto Friends Nursery School, 957 Colorado Ave.
FIRE STATION: No. 4, 3600 Middlefield Road
LIBRARY: Mitchell Park branch, 4050 Middlefield Road (temporary location during construction)
LOCATION: between Oregon Expressway and Loma Verde Avenue, Alma Street and West Bayshore Road
NEIGHBORHOOD ASSOCIATION: Sheri Furman, 650-856-0869, sheri11@earthlink.net,Midtown Residents Assocation
PARKS: Greer Park, 1098 Amarillo Ave.; Hoover Park, 2901 Cowper St.; Seale Park, 3100 Stockton Place
POST OFFICE: Cambridge, 265 Cambridge Ave.; Main, 2085 E. Bayshore Road
PRIVATE SCHOOLS: Keys School, 2890 Middlefield Road; HeadsUp! Emerson School, 2800 W. Bayshore Road
PUBLIC SCHOOLS: El Carmelo, Fairmeadow, Hoover, Ohlone and Palo Verde elementary schools; J. L. Stanford Middle School; Gunn or Palo Alto high schools
SHOPPING: Midtown Shopping Center, Middlefield Road and Colorado Avenue; also Middlefield Road at Loma Verde Avenue
CLICK HERE to view current Greenmeadow Listings