Leland Manor / Embarcadero Oaks / Garland, Palo Alto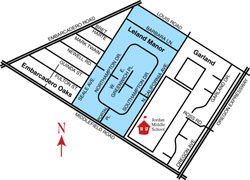 Leland Manor, Garland Drive and Embarcadero Oaks may be small, but their sense of community runs large. The idyllic mini-neighborhoods nestle in a parallelogram in eastern Palo Alto, bounded by the Oregon Expressway, Middlefield Road, Embarcadero Road and Louis Road.
Residents say you cannot beat the location, with shops and eateries within walking distance at Midtown, California Avenue, University Avenue and Stanford University. Sought-after schools and a nearby community center, children's theater and library keep local children busy. Several of the area's serene streets come to life for annual holiday festivities.
Most homes in the area are single-story California ranchers spread out on 10-12,000 square-foot lots, with some contemporary exceptions. Leland Manor's rolled curbs and wireless skies (electric and telephone lines are underground) give the still streets an expansive feel.
Swing sets and roses decorate front yards, along with the occasional palm, birch or Japanese maple. Some residents tend vegetable gardens and even chicken coops.
FACTS
CHILDCARE AND PRESCHOOLS (NEARBY): First Congregational Church Nursery School, 1985 Louis Road; Parents Nursery School, 2328 Louis Road; Walter Hays Kids' Club, 1525 Middlefield Road
FIRE STATION: No. 3, 799 Embarcadero Road
LOCATION: Leland Manor: between Middlefield and Louis roads, Seale and North California avenues; Embarcadero Oaks: triangle formed by Embarcadero Road, Seale Avenue and Middlefield Road; Garland Drive: between Middlefield and Louis roads
LIBRARY: Main Library, 1213 Newell Road
PARK (NEARBY): Rinconada Park, 777 Embarcadero Road
POST OFFICE: Cambridge, 265 Cambridge Ave.
PRIVATE SCHOOL: Hwa Chin School, 750 N. California Ave.; Stratford School, 870 N. California Ave.
PUBLIC SCHOOLS: Walter Hays Elementary School, Jordan Middle School, Palo Alto High School
SHOPPING: Midtown
CLICK HERE to view current Leland Manor Listings