Greenmeadow, Palo Alto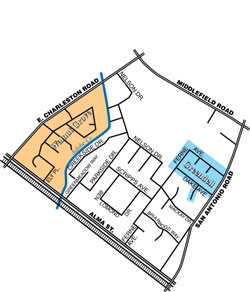 Tucked into a small nook behind the Cubberley Community Center there's a small picture-book community replete with tree-lined cul-de-sacs and Fourth of July parades. Even the architecture is a throwback to a time when families ate evening meals together and kids biked to neighborhood schools.
Greenmeadow is a collection of 270 homes built by Joseph Eichler, running between Creekside Drive and Ferne Avenue to the north and south and Nelson Drive and Ben Lomond Drive on the east and west. Originally completed in 1953, it was built as a cohesive, almost autonomous neighborhood, with houses receding back into cul-de-sacs off a few main drags.
In 2005, the neighborhood was endowed with a place on the National Register of Historic Places and, with that, the restriction to remain true to the "Eichler-look." The city had already placed a moratorium on second stories.
The inclusion of a two-car garage on the broad façade of the houses belies the rather spacious interiors of these homes. They are geometric and unusual inside; the architects were able to notch out living space in unexpected places.
Eichler's celebration of the outdoors is reflected in the community as a whole. With Bay Area landscape designer Thomas Church, they centered the community around a neighborhood park, pool and community center.
FACTS
CHILDCARE AND PRESCHOOLS (NEARBY): Montessori School of Los Altos, 303 Parkside Drive; Palo Alto Infant Toddler Center, 4111 Alma St.; Crescent Park Child Development Center (Peekaboo), 4161 Alma St.; Redwood Enrichment Center, 445 E. Charleston Road
FIRE STATION: No. 4, 3600 Middlefield Road
LIBRARY: Mitchell Park branch, 4050 Middlefield Road (temporary location during construction)
LOCATION: between Creekside Drive and Ferne Avenue, Nelson Drive and Ben Lomond Drive
NEIGHBORHOOD ASSOCIATION: Greenmeadow Community Association, 650-494-3157
PARKS: Greenmeadow Park (private); Mitchell Park (nearby), 600 East Meadow Drive
POST OFFICE: Cambridge, 265 Cambridge Ave.
PRIVATE SCHOOLS (NEARBY): Palo Alto Prep School, 4000 Middlefield Road; Gideon Hausner Jewish Day School, 450 and 470 San Antonio Road
PUBLIC SCHOOLS: Fairmeadow Elementary School, J.L. Stanford Middle School, Gunn High School
SHOPPING: Charleston Center, San Antonio Shopping Center
CLICK HERE to view current Greenmeadow Listings