Greenhouse, Palo Alto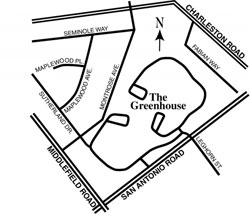 The Greenhouse, located at 777 San Antonio Road, between Middlefield Road and Fabian Way in south Palo Alto, has been attracting residents with its calm, green atmosphere and convenient location since 1975.
Developed by the Alpha Land Company, the complex was named for the greenhouses once owned by Bell Nurseries, after plans to build a K-Mart on the site fell through in the early 1970s. In 1978, 88 additional units were built in the same style on the adjoining land. The new condominiums, located at 765 San Antonio Road, came to be called The Greenhouse II.
When the original complex opened 33 years ago, the price for a unit was $34,950, but by 2010 prices had risen roughly 15 times. Today, 30 to 40 percent of Greenhouse residents are renters, compared with 25 percent in 1975.
FACTS
CHILDCARE AND PRE-SCHOOLS (NEARBY): Peninsula Day Care Center, 525 San Antonio Road
FIRE STATION: No. 4, 3600 Middlefield Road
LIBRARY: Mitchell Park branch, 4050 Middlefield Road (temporary location during construction)
LOCATION: 777 and 765 San Antonio Road
NEIGHBORHOOD ASSOCIATION: Palo Alto Greenhouse Homeowners Association, Ralph Cahn, treasurer, 650-858-1012; The Compass Management Group Inc., 650-563-9900
PARK (NEARBY): Mitchell Park, 600 E. Meadow Drive
POST OFFICE: Cambridge, 265 Cambridge Ave.
PUBLIC SCHOOLS: Fairmeadow or Hoover elementary schools, J.L. Stanford Middle School, Gunn High School
SHOPPING: San Antonio Shopping Center, Charleston Plaza, Costco Warehouse
CLICK HERE to view current Greenhouse Listings