Green Acres, Palo Alto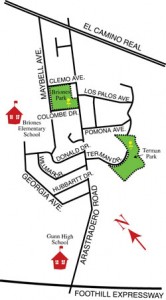 If there is one thing that you hear over and over from the residents of Green Acres, it is how safe they feel in this cozy neighborhood.
Green Acres actually consists of two main areas: Green Acres I on the south side of Arastradero Road, which was built first in the 1950s, shortly followed by Green Acres II, on the north side of Arastradero Road.
A big draw to the neighborhood is proximity to both public and private schools, including an elementary, middle and high school, and an international school on Terman Drive.
In recent years the neighborhood has increased its ethnic diversity, as many families of Chinese, Indian and other descent have been drawn to the sought-after school district.
The popularity of these schools has not been without impact. In recent years, the traffic caused by commuters has been a source of concern among local residents, and in 2009 the City of Palo Alto approved an improvement project along the Charleston/Arastradero corridor, the main driving thoroughfare. The project is scheduled to start this summer.
This development is sure to be keenly watched by the Green Acres Improvement Association, which meets with residents four times a year and has been actively helping to maintain the neighborhood and foster good community relations since 1952.
The association gets neighbors together at parties and events including a Christmas party in December, an ice-cream social for summer and a potluck each fall.
FACTS
CHILDCARE AND PRESCHOOLS: Palo Alto Montessori School, 575 Arastradero Road; Whistlestop Child Development Center, 3801 Miranda Ave. No. T6B; Young Life Christian Pre-School, 687 Arastradero Road
FIRE STATION: No. 5, 600 Arastradero Road
LIBRARY: Mitchell Park branch, 4050 Middlefield Road (temporary location during construction)
LOCATION: Green Acres I: Arastradero Road to Glenbrook Drive, Los Palos to Pomona avenues; Green Acres II: Maybell Avenue to Arastradero Road, Coulombe Drive to Georgia Avenue
NEIGHBORHOOD ASSOCIATION: (Green Acres I) Alice Sklar, a2sklar@aol.com; (Green Acres II) Betsy Allyn, 650-493-8859
PARKS: Juana Briones Park, 609 Maybell Ave.; Terman Park, 655 Arastradero Road
POST OFFICE: Cambridge, 265 Cambridge Ave.
PRIVATE SCHOOL: Bowman International School, 4000 Terman Drive
PUBLIC SCHOOLS: Juana Briones Elementary School, Terman Middle School, Gunn High School
SHOPPING: El Camino Real, San Antonio Shopping Center, Downtown Los Altos
CLICK HERE to view current Green AcresListings