Greater Miranda, Palo Alto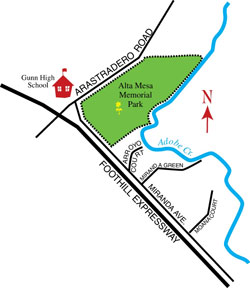 Located between Alta Mesa Memorial Park, Adobe Creek (which separates Palo Alto from Los Altos) and Foothill Expressway, the area was formerly an orchard. Miranda Avenue, which used to run through the nearby cemetery, now connects the three cul-de-sacs — Arroyo Court, Miranda Green and Moana Court. Today's traffic is mostly in and out of the neighborhood.
The Greater Miranda land was originally purchased by the Mexican-American pioneer Dona Juana Briones de Miranda for $300 in 1850. It wasn't until 1959 that the area was annexed to the city of Palo Alto. Development in the area didn't really begin until the 1950s and gradually has grown to the neighborhood it is today.
Many of the residents attribute the peace-and-quiet ambiance of the 55 homes to their proximity to Alta Mesa Memorial Park. Occasionally wildlife finds a way into neighbors' backyards, including deer, a bobcat and a fox — a very appealing aspect especially with the Adobe Creek being close-by, Don Nielsen, president of the Miranda Neighborhood Association, said.
Access to the nearby amenities — including shopping and employment opportunities — is another positive factor about the neighborhood.
FACTS
CHILDCARE AND PRESCHOOLS (NEARBY): Whistle Stop Child Development Center, 3801 Miranda Ave., No. T6B
FIRE STATION: No. 5, 600 Arastradero Road
LIBRARY: Mitchell Park branch, 4050 Middlefield Road (temporary location during construction)
LOCATION: Miranda Avenue, Arroyo Court, Miranda Green and Moana Court
NEIGHBORHOOD ASSOCIATION: Don Nielson, 650-941-2429
PARKS (NEARBY): Terman Park, 655 Arastradero Road
POST OFFICE: Cambridge, 265 Cambridge Ave.
PRIVATE SCHOOL: Bowman International School, 4000 Terman Drive
PUBLIC SCHOOLS: Juana Briones Elementary School, Terman Middle School, Gunn High School
SHOPPING: El Camino Real, San Antonio Shopping Center
CLICK HERE to view current Greater Miranda Listings