Fairmeadow, Palo Alto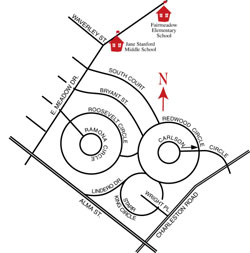 Joseph Eichler designed the circular streets in the early 1950s to reduce traffic in his tract of modern, affordable homes, but now they also serve as the neighborhood's icon.
Aside from the occasional errant driver and school-related traffic congestion in the mornings and late-afternoons, Fairmeadow is a quiet, peaceful neighborhood.
In true neighborhood fashion, Ramona Circle residents host annual block parties. Kids play basketball, skateboard, jump in the bouncy tent and draw in chalk on the closed-off street.
FACTS
CHILDCARE AND PRESCHOOLS (NEARBY): Besse Bolton Kids' Club, 500 E. Meadow Drive; Covenant Children's Center, 670 E. Meadow Drive; Ellen Thacher Children's Center, 505 E. Charleston Road; Hoover Kids' Club; 445 E. Charleston Road; Redwood Enrichment Center, 445 E. Charleston Road; Palo Alto Infant Toddler Center, 4111 Alma St.
FIRE STATION: No. 4, 3600 Middlefield Road
LIBRARY: Mitchell Park branch, 4050 Middlefield Road (temporary location during construction)
LOCATION: bordered by East Charleston Road, East Meadow Drive, Alma Street and Mitchell Park
NEIGHBORHOOD ASSOCIATION: Len Filppu, president, 650-857-1031
PARK: Mitchell Park, 600 E. Meadow Drive
POST OFFICE: Cambridge, 265 Cambridge Ave.
PRIVATE SCHOOL: Challenger School, 3880 Middlefield Road
PUBLIC SCHOOLS: Fairmeadow and Hoover elementary schools, J.L. Stanford Middle School, Gunn High School
SHOPPING (NEARBY): Charleston Center
CLICK HERE to view current Fairmeadow Listings