Esther Clark Park, Palo Alto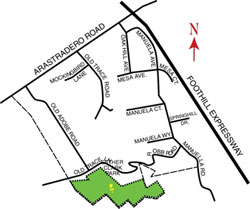 Large oak trees, wild animals and uninterrupted landscapes define Esther Clark Park, an open 21-acre plot of land located in the Palo Alto hills.
Rich Spanish villas, old-style ranch houses and wide Mediterranean-style mansions run down the three main roads of the neighborhood by the same name. Old Adobe Road, Old Trace Road and Manuela Avenue branch off from Arastradero Road to wind around the park. All houses receive a stellar view of the park, regardless of where they are located.
The park was sold to the city in 1965 by Esther Clark, the first female pediatrician and founder of the Palo Alto Medical Clinic and the Children's Health Council.
Many families were drawn to the neighborhood's close proximity to Nixon Elementary School. Getting to school was literally a walk through the park. Stocker's family played host to annual skating parties. While the children's departure from the area has left a number of empty nesters in its wake, the friendly nature of the neighbors still remains.
FACTS
FIRE STATION: No. 5, 600 Arastradero Road
LIBRARY: Mitchell Park branch, 4050 Middlefield Road (temporary location during construction)
LOCATION: from Old Adobe Road to Manuela Avenue, off Arastradero Road
PARK: Esther Clark Park, Old Trace Road
POST OFFICE: Cambridge, 265 Cambridge Ave.
PUBLIC SCHOOLS: Nixon Elementary School, Terman Middle School, Gunn High School
SHOPPING: El Camino Real, Downtown Los Altos
CLICK HERE to view current Esther Clark Park Listings