Downtown North, Palo Alto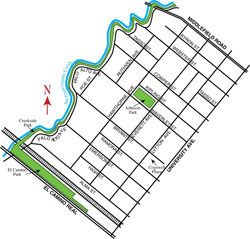 Downtown North, Palo Alto's northernmost neighborhood, is also one of its oldest. Soon after Palo Alto began as an offshoot of Stanford University in the 1890s, the town was dry, and a trolley ran up University Avenue.
Much has changed since the post-World War II downtown developed into a Norman Rockwell-esque landscape of creameries, movie houses and five-and-dimes. Instead of Woolworth's, today you can find an Apple store, an icon of Silicon Valley, along a bustling main street.
Downtown North is bounded by the meandering San Francisquito Creek on the north, University Avenue on the south and tucked between Alma Street and Middlefield Road.
FACTS
CHILDCARE AND PRESCHOOLS (AND NEARBY): Discovery Children's House — Montessori, 437 Webster St.; Downtown Children's Center, 555 Waverley St.; First School, 625 Hamilton Ave.
FIRE STATION: No. 1, 301 Alma St.
LIBRARY: Downtown branch, 270 Forest Ave. (temporarily closed for renovations)
LOCATION: between San Francisquito Creek and University Avenue, Alma Street and Middlefield Road
NEIGHBORHOOD ASSOCIATION: Dan Lorimer, 650-322-5566
PARKS: Cogswell Plaza, Lytton Avenue between Ramona and Bryant streets; El Camino Park, 100 El Camino Real; El Palo Alto Park, Alma Street at El Camino Real; Hopkins Creekside Park, Palo Alto Avenue from El Camino Real to Middlefield Road; Johnson Park, Everett Avenue and Waverley Street
POST OFFICE: Hamilton, 380 Hamilton Ave.
PUBLIC SCHOOLS: Addison Elementary School, Jordan Middle School, Palo Alto High School
SHOPPING: University Avenue, Stanford Shopping Center
CLICK HERE to view current Downtown North Listings