Crescent Park, Palo Alto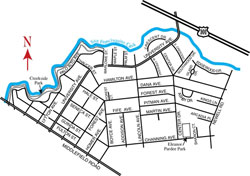 Tucked between San Francisquito Creek, Newell Road, Channing Avenue and Middlefield Road, Crescent Park has a quiet, secluded feel despite its proximity to downtown Palo Alto and traffic-laden University Avenue. Children play on the neighborhood's magnolia-lined sidewalks, and neighbors know they can rely on each other for help, advice and friendship.
But the friendly environment isn't the only thing that attracts people to Crescent Park. The area's architectural diversity and age, with Mediterranean, Early Californian and Victorian homes, appeals to many residents looking for a neighborhood with character.
For decades, the nearby San Francisquito Creek has caused its share of problems. Heavy El Nino rains wreaked millions of dollars of damage when the creek overflowed in 1998.
Much of Crescent Park is now in a designated flood zone, which means that mortgaged homes need to have flood insurance and that any major renovations require raising the house above the flood level.
Rather than focusing on the flood, most residents talk about the friendly atmosphere, elegant homes and fantastic location.
FACTS
CHILDCARE AND PRESCHOOLS: Piccolo Preschool, 888 Boyce Ave.
FIRE STATION: No. 3, 799 Embarcadero Road
LIBRARY: Main Library, 1213 Newell Road
LOCATION: bounded by San Francisquito Creek, Newell Road, Channing Avenue and Middlefield Road
NEIGHBORHOOD ASSOCIATION: Norman Beamer, 650-327-7071
PARKS: Eleanor Pardee Park, 851 Center Drive; Hopkins Creekside Park, along Palo Alto Avenue
POST OFFICES: Hamilton, 380 Hamiliton Ave.; Main, 2085 E. Bayshore Road
PRIVATE SCHOOLS: St. Elizabeth Seton School, 1095 Channing Ave.
PUBLIC SCHOOLS: Duveneck Elementary School, Jordan Middle School, Palo Alto High School
SHOPPING (NEARBY): The Willows Market, 60 Middlefield Road, Menlo Park
CLICK HERE to view current Crescent Park Listings