Community Center, Palo Alto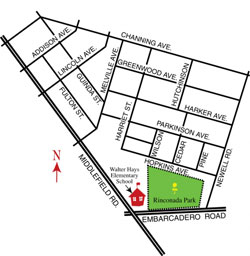 Situated between Middlefield, Embarcadero and Newell roads and Channing Avenue, the colorful, open yards and sidewalks shaded by trees in the Community Center neighborhood welcome neighbors to stop and chat with passer-bys.
Within two blocks in each direction, residents have everything they could want in a neighborhood brimming with children.
FACTS
CHILDCARE AND PRESCHOOLS: Walter Hays Kids' Club, 1525 Middlefield Road
FIRE STATION: No. 3, 799 Embarcadero Road
LIBRARY: Main Library, 1213 Newell Road, Children's Library, 1276 Harriet St.
LOCATION: bounded by Middlefield Road, Channing Avenue, Newell Road and Embarcadero Road
NEIGHBORHOOD ASSOCIATION: Rick Ferguson, 650-327-3222, rick@skylonda.com
PARK: Rinconada Park, 777 Embarcadero Road
POST OFFICE: Main, 2085 E. Bayshore Road; Hamilton, 380 Hamilton Ave.
PRIVATE SCHOOL: St. Elizabeth Seton School, 1095 Channing Ave.
PUBLIC SCHOOLS: Walter Hays, Addison or Duveneck elementary schools, Jordan Middle School, Palo Alto High School
SHOPPING: Midtown, Downtown Palo Alto
CLICK HERE to view current Community Center Listings