Charleston Meadows, Palo Alto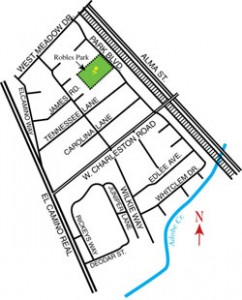 The tree-lined streets, parks and ubiquitous single-story wood-frame homes of Charleston Meadows attract families with children.
The neighborhood association holds community-building events at least once annually, to bring residents together and to raise their awareness about the current challenges affecting Charleston Meadows, most recently meeting at Robles Park for the annual elections.
With 55 neighborhood homes by the Caltrain corridor, Charleston Meadows residents have a stake in shaping the plans of the rail authority as they plan the route, elevation and tracking through Palo Alto.
Part of what Charleston Meadows aims to protect is the small-town feel that residents say inspires neighborliness.
FACTS
CHILDCARE AND PRESCHOOLS: Growing Tree Preschool, 450 W. Charleston Road
FIRE STATION: No. 4, 3600 Middlefield Road; No. 5, 600 Arastradero Road
LIBRARY: Mitchell Park branch, 4050 Middlefield Road (temporary location during construction)
LOCATION: bounded by West Meadow Drive, Alma Street, Adobe Creek and El Camino Real
NEIGHBORHOOD ASSOCIATION: John Hofer, president, cmaboard@googlegroups.com,Charleston Meadows Neighborhood Association
PARKS: Don Secundino Robles Park, 4116 Park Blvd.; Monroe Mini Park (nearby), Monroe Drive and Miller Avenue
POST OFFICE: Alma Shoe Repair (for sending only, no receiving) 3666b EL Camino Real; Cambridge, 265 Cambridge Ave.
PUBLIC SCHOOLS: Juana Briones Elementary School, J.L. Stanford Middle School, Gunn High School
SHOPPING: San Antonio Shopping Center, Piazza's Shopping Center
CLICK HERE to view current Charleston Meadows Listings