Charleston Gardens, Palo Alto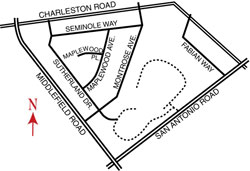 Drawn to the wide and safe streets, Charleston Gardens is an area ideal for raising young children.
Although surrounded by three busy streets, Charleston, Middlefield and San Antonio roads, Charleston Gardens is a serene area. On a mid-day stroll around the tree-shaded neighborhood the loudest sound heard is birds chirping, and the streets are nearly free of cars. Portable basketball hoops are common, with children often seen playing on late afternoons.
Residents stay connected with e-mails on news concerning the neighborhood and the annual block party, which includes a barbecue and games. The block party, which happens most years, is also a fun way many neighbors share their cultural backgrounds by preparing ethnic foods.
FACTS
CHILDCARE AND PRESCHOOLS (NEARBY): Children's Pre-School Center, 4000 Middlefield Road, T1; Good Neighbor Montessori, 4000 Middlefield Road, K4; Young Fives and Pre-school Family, 4120 Middlefield Road; T'enna Preschool (OFJCC), 3921 Fabian Way
FIRE STATION: No. 4, 3600 Middlefield Road
LIBRARY: Mitchell Park branch, 4050 Middlefield Road (temporary location during construction)
LOCATION: bounded by Middlefield Road, East Charleston Road, Montrose Avenue, Sutherland Drive
NEIGHBORHOOD ASSOCIATION: George Browning, gbrowning33@sbcglobal.net
PARK: Mitchell Park, 600 East Meadow Drive
POST OFFICE: Cambridge, 265 Cambridge Ave.; Main, 2085 E. Bayshore Road
PRIVATE SCHOOLS: Challenger School, 3880 Middlefield Road; Gideon Hausner Jewish Day School, 450 San Antonio Road; Kehillah Jewish High School, 3900 Fabian Way; Palo Alto Prep School, 4000 Middlefield Road
PUBLIC SCHOOLS: Fairmeadow or Hoover elementary schools, J.L. Stanford Middle School, Gunn High School
SHOPPING: Charleston Center
CLICK HERE to view current Charleston Gardens Listings