Barron Park, Palo Alto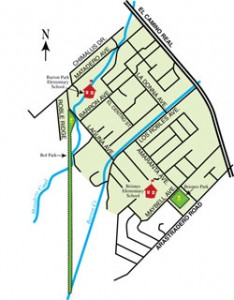 The days of summer ice-cream socials held to welcome new neighbors, spring gatherings in the park and winter parades complete with marching band and donkeys, have gone by the wayside — unless you live in the community of Barron Park.
Unlike most Silicon Valley neighborhoods Barron Park hastens back to the era of a simpler time, where family and community were rooted in the hearts and minds of its residents.
Barron Park's history dates back to 1925 when it was laid out as a 62-lot Santa Clara County subdivision by Colonel Sebastian Jones, along El Camino Real, La Selva Drive and Barron Avenue. Between the 1920s and '30s agriculture was its mainstay. Fruit orchards could be seen from El Cerrito to Encina Grande Park, and on the land where Gunn High School is located, dairy cattle grazed.
FACTS
CHILDCARE AND PRESCHOOLS: Barron Park Childcare Co-op, Gretchen_Reynolds@yahoo.com; Barron Park Playgroup, Beth Delson, bdelson@icg.org; Barron Park Children's Center, 800 Barron Ave.; Barron Park Preschool, 3650 La Donna Ave.; Barron Park Kids' Club, 800 Barron Ave.; Juana Briones Kids' Club, 4100 Orme St.
FIRE STATION: No. 5, 600 Arastradero Road
LIBRARY: College Terrace branch, 2300 Wellesley St.; Mitchell Park branch, 3700 Middlefield Road
LOCATION: roughly between Chimalus and Maybell avenues, El Camino Real and Gunn High School fields
NEIGHBORHOOD ASSOCIATION: Lynnie Melena, president, 650-493-2135, president@bpaonline.org, Barron Park Association
PARKS: Bol Park, Laguna Avenue between Barron and Matadero avenues; Juana Briones Park, 609 Maybell Ave.
POST OFFICE: Cambridge, 265 Cambridge Ave.
PUBLIC SCHOOLS: Barron Park and Juana Briones elementary schools, Terman Middle School, Gunn High School
SHOPPING: San Antonio Shopping Center, California Avenue
CLICK HERE to view current Barron Park Listings