Willowgate, Mountain View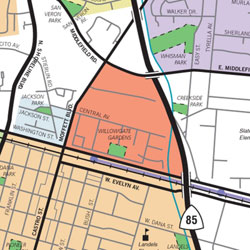 One draw to the area is the popular Willowgate Community Garden, which has been around longer than the city keeps track of and has a waitlist of more than 100 people. Prospective gardeners must wait three to four years to gain access to one of the 84 plots in the garden, which flourishes with everything from flowers and tomatoes to kiwi plants.
FACTS
COMMUNITY GARDEN: $39 for plot permit, 650-903-6331, or e-mail recreation@mountainview.gov to join the wait list for a plot
FIRE STATION: No. 1, 251 S. Shoreline Blvd.
LOCATION: bordered by Central Expressway, West Moffett, Moffett and Highway 85
PARK: Jackson Park, Jackson Street and Stierlin Road
POST OFFICE: Mountain View, 211 Hope St.
PUBLIC SCHOOLS: Mtn. View-Whisman School District== — Landels or Monta Loma elementary schools, Crittenden Middle School; Mtn. View-Los Altos Union High School District — Mountain View High School
SHOPPING: Moffett Boulevard, Downtown Mountain View, Sunday farmers market at Caltrain parking lot (9 a.m. to 1 p.m. year round)
CLICK HERE to view current Willowgate Listings