Whisman Station, Mountain View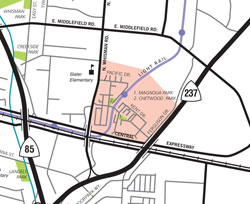 It is difficult not to know when you are entering the Whisman Station neighborhood. After all, at just about every entrance, a large stucco and metal relief announces the name of this community of 700 prim habitations.
Yet, despite its clean streets, well-manicured parks and convenient access to public transportation, this alcove of Mountain View is scarcely known by those not living within its boundaries.
But Whisman Station residents wouldn't have it any other way. They seldom worry about dubious characters wandering through the secluded neighborhood, which is bounded by Highway 237, Central Expressway and Whisman Road.
The area takes its name from the Valley Transit Authority Light Rail station within its borders — a huge convenience, which is only slightly offset by a few concerns about noise and safety.
One slight pitfall of the neighborhood is the lack of nearby shopping. A 7-Eleven and a coffee shop down the street are the only conveniences within easy walking distance. However, more than one resident pointed out that for large grocery trips a car is usually necessary anyhow.
FACTS
CHILDCARE AND PRESCHOOLS (NEARBY): Kiddie Academy, 205 E. Middlefield Road; Kids Korner Christian Child Care Center, 250 E. Dana St.; German International School of Silicon Valley, 310 Easy St.; Yew Chung International School, 310 Easy St.
FIRE STATION: No. 4, 229 N. Whisman Road
LOCATION: Central Expressway, Ferguson Drive, streets off Kent Drive, Snyder Lane, N. Whisman Road
NEIGHBORHOOD ASSOCIATION: Michael Jones, manager, Community Management Services, 650-961-2630, ext. 120
PARKS: Magnolia Park, Magnolia Lane and Whisman Park Drive; Chetwood Park, Chetwood Drive and Whisman Station Drive
POST OFFICE: Mountain View, 211 Hope St.
PRIVATE SCHOOLS (NEARBY): German International School of Silicon Valley, 310 Easy St.
PUBLIC SCHOOLS: Mtn. View-Whisman School District — Landels Elementary School, Crittenden Middle School; Mtn. View-Los Altos Union High School District — Mountain View High School
SHOPPING: El Camino Real, Downtown Mountain View
CLICK HERE to view current Whisman Station Listings