Shoreline West, Mountain View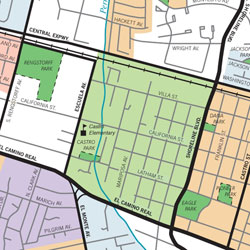 Sometimes whimsical and sometimes regal, the eclectic houses near downtown obviously predate cookie-cutter subdivisions and the subtlety and straight lines of the Eichler era.
The neighborhood's grid of quiet, tree-lined streets with a cozy, walkable feel evoke times past. It boasts several shops and markets, so the car doesn't utterly dominate. The diversity of the neighborhood speaks of California's past and future of strong Latino influences.
In the 1990s, the neighborhood broke off from the "Old Mountain View" neighborhood to the east and formed its own association. Its goal at first was to make sure the historic houses in the neighborhood were preserved, including one owned by Mountain View's first mayor.
The neighborhood association was inactive for years but now has a website with information for residents. Neighbors have been active in establishing a dog park this year.
Recently residents have grown closer together with a series of monthly potluck dinners.
FACTS
CHILDCARE AND PRESCHOOLS: Castro Preschool, 505 Escuela Ave.; Childrens Learning Cottage, 675 Escuela Ave.; Wonder World, 2015 Latham St. (nearby)
FIRE STATION: No. 1, 251 S. Shoreline Blvd.
LOCATION: bounded by Shoreline Boulevard, El Camino Real, Escuela Avenue and Villa Street
NEIGHBORHOOD ASSOCIATION: Shoreline West Association of Neighbors (SWAN), Mike Groethe, groethe13@yahoo.com
PARKS: Castro School Park, Toft Avenue and Latham Street; Eagle Park and Pool, S. Shoreline Boulevard at Church Street
POST OFFICE: Mountain View, 211 Hope St.
PUBLIC SCHOOLS: Mtn. View-Whisman School District — Castro Elementary School, Graham Middle School; Mtn. View-Los Altos Union High School District — Los Altos High School
SHOPPING: Downtown Mountain View; California Street Market, 1595 California St.; Escuela Avenue at El Camino Real
CLICK HERE to view current Shoreline West Listings