Rex Manor / Mountain Shadows, Mountain View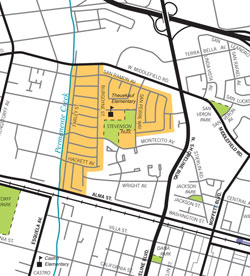 Located just off busy Central Expressway, Rex Manor — a quiet neighborhood with tree-lined streets and numerous parks — is the best of both worlds.
FACTS
CHILD CARE AND PRESCHOOLS: YMCA of the East Bay/Mountain View Child Development Center, 750B San Pierre Way; YMCA — Theuerkauf,1625 San Luis Ave.
FIRE STATION: No. 3, 301 N. Rengstorff Ave.
LOCATION: Rex Manor: between Farley and Burgoyne streets, Central Expressway and West Middlefield Road; Mountain Shadows: between Burgoyne Street and Shoreline Boulevard, San Ramon and Montecito avenues
NEIGHBORHOOD ASSOCIATION: Lawrence Shing, chair, Shings.rus@gmail.com
PARKS: Rex Manor Park, Farley Street and Central Expressway; Stevenson Park, San Luis Avenue and San Pierre Way
POST OFFICE: Mountain View, 211 Hope St.
PUBLIC SCHOOLS: Mtn. View-Whisman School District — Theuerkauf Elementary School, Crittenden Middle School; Mtn. View-Los Altos Union High School District — Los Altos High School
SHOPPING: Bailey Plaza, Shoreline Boulevard; strip shopping at 112 Rengstorff Ave. and 580 Rengstorff Ave.
CLICK HERE to view current Rex Manor / Mountain Shadows Listings