Old Mountain View, Mountain View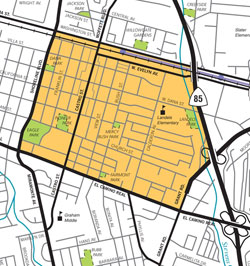 The streets that crisscross the Old Mountain View neighborhood and nearby downtown were first carved nearly 150 years ago at the close of the Civil War. The arrival of the railroad in the mid 1860s spurred the developments, which grew south from Evelyn Avenue and now comprise the heart of the city.
Though few 19th-century structures remain, the neighborhood prominently features architecture from the '30s, '40s and '50s. This good-old-days aesthetic has been maintained even as the surrounding community has grown to foster some of Silicon Valley's technology giants, most notably Google, which is headquartered in Mountain View.
Many choose the neighborhood for its proximity to downtown Mountain View. "It's the perfect distance from downtown," said Aaron Grossman, former treasurer of the Old Mountain View Neighborhood Association (OMVNA), who moved into the neighborhood in 1995.
Although the bustling Castro Street bisects the neighborhood, the highly active neighborhood association works to make sure that businesses do not push into the surrounding residential areas, even as it encourages growth of retail that serves the community. Walking down Castro from one end of the neighborhood to the other, one will find City Hall, a multitude of restaurants and coffee shops, as well as the Mountain View Center for the Performing Arts.
FACTS
CHILDCARE AND PRESCHOOLS: YMCA Kids' Place at Landels School, 115 W. Dana St.
FIRE STATION: No. 1, 251 S. Shoreline Blvd.
LOCATION: bounded by El Camino Real, Shoreline Boulevard, Evelyn Avenue and Highways 87/237
NEIGHBORHOOD ASSOCIATION: Old Mountain View Neighborhood Association, Laura Lewis, chair@omvna.org; omvna.org
PARKS: Dana Park, West Dana Street at Oak Street; Eagle Park & Pool, S. Shoreline Boulevard at Church Street; Pioneer Park, Church and Castro streets; Mercy-Bush Park, Mercy and Bush streets; Fairmont Park, Fairmont Avenue and Bush Street; Landels Park, West Dana Street near Calderon Avenue
POST OFFICE: Mountain View, 211 Hope St.
PUBLIC SCHOOLS: Mtn. View-Whisman School District — Landels Elementary School, Graham Middle School; Mtn. View-Los Altos Union High School District — Mountain View High School
SHOPPING: Downtown Mountain View, Grant Park Plaza
CLICK HERE to view current Old Mountain View Listings