Martens-Carmelita, Mountain View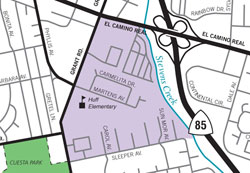 Though it's just a few blocks off El Camino Real, Martens-Carmelita neighborhood has a rustic, rural feel that sets it apart from other areas in Mountain View. The atmosphere is reminiscent of the 1950s, when many of the homes were built.
Countless varieties of trees and shrubberies line the streets, which don't have sidewalks. And every few houses, there's a cluster of brightly painted mailboxes.
FACTS
CHILDCARE AND PRESCHOOLS: Baby World, 1715 Grant Road; Montecito School, 1468 Grant Road; St. Timothy's Preschool, 2094 Grant Road; YMCA — Huff Kids' Place, 253 Martens Ave.
FIRE STATION: No. 2, 160 Cuesta Drive
LOCATION: Martens Avenue and Carmelita Drive and nearby streets
NEIGHBORHOOD ASSOCIATION: Martens-Carmelita Neighborhood Association, Robin Iwai, 650-961-8257, robin.iwai@yahoo.com
PARKS: Huff Park, Martens Avenue
POST OFFICE: Blossom Valley, 1768 Miramonte Ave.
PRIVATE SCHOOLS (NEARBY): St. Simon Catholic School, 1840 Grant Road, Los Altos
PUBLIC SCHOOLS: Mtn. View-Whisman School District — Huff Elementary School, Graham Middle School; Mtn. View-Los Altos Union High School District — Mountain View High School
SHOPPING: Grant Park Plaza, Grant Road at El Camino Real; Mountain View Center, El Camino at Grant Road
CLICK HERE to view current Martens-Carmelita Listings