Jackson Park, Mountain View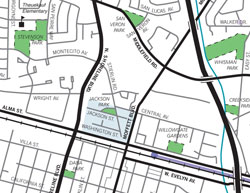 Japanese, Portuguese, Spanish and Mexican immigrants have all brought colorful flourishes of their respective cultures to the neighborhood. Japanese-Americans hold the annual Obon festival to honor the memory of their ancestors at the nearby Buddhist Temple on Stierlin Road. Across the street from the temple is the Portuguese Hall, and six weeks after Easter the Portuguese Holy Ghost Parade celebrates spring with the ringing of marching-band brass.
FACTS
FIRE STATION: No. 1, 251 S. Shoreline Blvd.
LOCATION: bounded by Shoreline Boulevard, Stierlin Road, Windmill Park Lane, Central Avenue, Moffett Boulevard and Central Expressway
PARK: Jackson Park, Jackson Street and Stierlin Road
POST OFFICE: Mountain View, 211 Hope St.
PUBLIC SCHOOLS: Mtn. View-Whisman School District — Monta Loma or Theuerkauf elementary schools, Crittenden Middle School; Mtn. View-Los Altos Union High School District — Mountain View High School
SHOPPING: Moffett Boulevard, Downtown Mountain View, Bailey Plaza
CLICK HERE to view current Jackson Park Listings