Gemello, Mountain View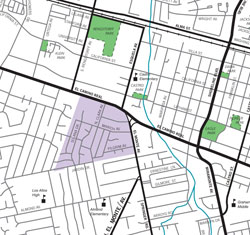 Gemello, its residents say again and again, is an old-fashioned neighborhood. It has old-fashioned architecture, old-fashioned plants and, best of all, an old-fashioned feel with neighbors that know each other, like each other and even remodel with each other.
Gemello — the Mountain View neighborhood located between the Los Altos border, El Camino Real and El Monte Avenue — was once a winery owned by John Gemello. In the 1950s, it was sold to San Francisco-based Meadow Development Company, which promptly starting building three-bedroom, one-bath Blackfield and Excel villages.
FACTS
CHILDCARE AND PRESCHOOLS: Little Acorn Preschool, 1667 Miramonte Ave.; St. Timothy's Preschool, 2094 Grant Road; YMCA Kids Place, 525 Hans Ave.
FIRE STATION: No. 2, 160 Cuesta Drive
LOCATION: bounded by El Camino Real, Grant Road, Cuesta Drive, Miramonte Avenue, Castro Street
NEIGHBORHOOD ASSOCIATION: Cuesta Park Neighborhood Association (CPNA), vice president and acting President, Russ Jones, 650-961-9682
PARKS: Bubb Park, Barbara Avenue and Montalto Drive; Cuesta Park, 615 Cuesta Drive
POST OFFICE: Blossom Valley, 1768 Miramonte Ave.
PRIVATE SCHOOLS: St. Joseph, 1120 Miramonte Ave.; St. Francis High School, 1885 Miramonte Ave.
PUBLIC SCHOOLS: Mtn. View-Whisman School District — Bubb Elementary School, Graham Middle School; Mtn. View-Los Altos Union High School District — Mountain View High School
SHOPPING: Grant Park Plaza, Grant Road at El Camino Real; Blossom Valley Shopping Center, Miramonte Avenue at Cuesta Drive; Downtown Mountain View
CLICK HERE to view current Cuesta Park Listings