Cuesta Park, Mountain View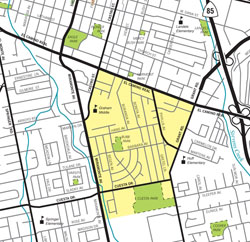 With its eclectic mix of old-style cottages, apartment complexes and new single-family homes, the Cuesta Park neighborhood feels like a 1950s-era suburb.
And, the people of Cuesta Park exemplify the traditions of the era it resembles. Genuine kindness and respect for each other and their neighbors is an everyday occurrence.
A key component to the sense of community that resounds in the Cuesta Park neighborhood is the Cuesta Park Neighborhood Association or CPNA.
Neighborhood gatherings abound in this Mountain View locality, and many of them take place in the sprawling 25-acre park bearing the neighborhood's name, Cuesta Park.
The park plays host to summer concerts, fall picnics, wildflower planting, and every May it's the location of the Mountain View chapter of the American Cancer Society's Relay for Life.
FACTS
CHILDCARE AND PRESCHOOLS: Little Acorn Preschool, 1667 Miramonte Ave.; St. Timothy's Preschool, 2094 Grant Road; YMCA Kids Place, 525 Hans Ave.
FIRE STATION: No. 2, 160 Cuesta Drive
LOCATION: bounded by El Camino Real, Grant Road, Cuesta Drive, Miramonte Avenue, Castro Street
NEIGHBORHOOD ASSOCIATION: Cuesta Park Neighborhood Association (CPNA), vice president and acting President, Russ Jones, 650-961-9682
PARKS: Bubb Park, Barbara Avenue and Montalto Drive; Cuesta Park, 615 Cuesta Drive
POST OFFICE: Blossom Valley, 1768 Miramonte Ave.
PRIVATE SCHOOLS: St. Joseph, 1120 Miramonte Ave.; St. Francis High School, 1885 Miramonte Ave.
PUBLIC SCHOOLS: Mtn. View-Whisman School District — Bubb Elementary School, Graham Middle School; Mtn. View-Los Altos Union High School District — Mountain View High School
SHOPPING: Grant Park Plaza, Grant Road at El Camino Real; Blossom Valley Shopping Center, Miramonte Avenue at Cuesta Drive; Downtown Mountain View
CLICK HERE to view current Cuesta Park Listings