The Crossings, Mountain View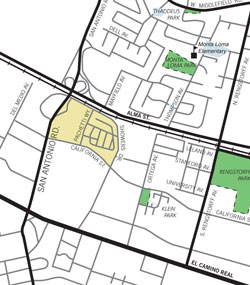 One familiar with the Talking Heads might be given pause and reason to recall the lyrics of "Don't Worry About the Government," while walking from the San Antonio Caltrain station through the adjacent Mountain View community known as The Crossings.
"My building has every convenience," the bright pastel yellows of the uniform homes seem to sing out. "It's gonna make life easy for me."
The neighborhood is nestled between San Antonio Road, Showers Drive and California Street, and its proximity to Safeway, Trader Joe's, Walmart, Target and even See's Candy lend credence to the song.
Another bonus for residents with a passion for performance is the Community School of Music and Arts located just down the street. Cullen, her husband and son enjoy attending the family-oriented performances held at the school, and she said many of her son's friends take music lessons there.
FACTS
CHILDCARE AND PRESCHOOLS (NEARBY): Hobbledehoy Montessori Preschool, 2321 Jane Lane
FIRE STATION: No. 3, 301 N. Rengstorff Ave.
LOCATION: between San Antonio Road, Showers Drive and California Street
NEIGHBORHOOD ASSOCIATION: Separate associations for condominiums, townhouses, row houses and single-family homes; all run by Nagi Chami, CEO of Tri-State Enterprises; 650-210-0085
PARKS: Concord Circle and Sondgroth Way, Beacon Street and Laurel Way; nearby: Klein Park, Monta Loma Park
POST OFFICE: Mountain View, 211 Hope St.
PRIVATE SCHOOLS (NEARBY): Gideon Hausner Jewish Day School, 450 San Antonio Road, Palo Alto
PUBLIC SCHOOLS: Los Altos School District — Covington Elementary School, Egan Junior High School; Mountain View-Los Altos Union High School District — Los Altos High School
SHOPPING: San Antonio Shopping Center, strip shopping on California Street
CLICK HERE to view current The Crossings Listings