Castro City, Mountain View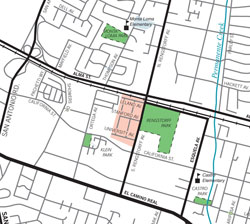 In a neighborhood synonymous with Mountain View's earliest history, change is easy to see.
Once an enclave of cottage houses, today Castro City features a growing number of newly built, narrow, two-story homes squeezed onto tiny lots in the six-square-block area located across the street from Rengstorff Park.
Yet the upgrading of residences carries a price — greater density and a threat to premium street-parking outside older houses stuck with one-car garages.
The area's namesake is Mariano Castro, whose Spanish rancho included most of the land that Mountain View occupies. Two years after the 1906 quake, a land speculator divided up the area with the hope of turning it into a country suburb for Stanford professors and San Francisco vacationers, using such street names as University and Fair Oaks avenues.
Instead, real estate men moved cannery shacks from Campbell over to Castro City, and Latino fruit pickers and other laborers settled in the bargain neighborhood, where homes sold in 1941 for $150, according to a Palo Alto Times article.
Surrounded by farms, the unincorporated nook developed its own civic identity and eventually was annexed to Mountain View.
FACTS
CHILDCARE AND PRESCHOOLS: Oak Tree Nursery School, 2100 University Ave.; Wonder World, 2015 Latham St. (nearby)
FIRE STATION: No. 3, 301 N. Rengstorff Ave.
LOCATION: bounded by South Rengstorff Avenue, University Avenue, College Street and Leland Avenue
PARKS: Castro Park, Toft Avenue at Latham Street; Rengstorff Park and pool, Rengstorff Avenue at Crisanto Avenue
POST OFFICE: Mountain View, 211 Hope St.
PUBLIC SCHOOLS: Mountain View Whisman School District — Mariano Castro Elementary School, Graham Middle School; Mountain View-Los Altos Union High School District — Los Altos High School
SHOPPING: Mi Pueblo Food Center, 40 S. Rengstorff Ave. at Leland Avenue; Walgreens, 112 N. Rengstorff Ave. at Central Expressway
CLICK HERE to view current Castro City Listings