Blossom Valley, Mountain View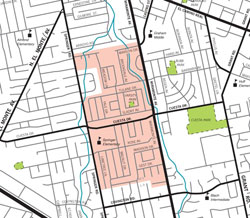 Blossom Valley was built on orchard land in the 1950s. Many houses are from that era, but properties are kept up and remodeling remains energetic. Four smaller neighborhoods make up Blossom Valley –Springer Meadows, Varsity Park, Blossom Valley Estates and Gest Ranch. The neighborhood is bordered by Springer Road and Miramonte Avenue and is effectively cut in half by Cuesta Drive.
FACTS
CHILDCARE AND PRESCHOOLS (NEARBY) : Children's House of Los Altos, 770 Berry Ave.; Little Acorn School, 1667 Miramonte Ave.; St. Timothy's Nursery School, 2094 Grant Road
FIRE STATION: No. 2, 160 Cuesta Drive
LOCATION: between Springer road and Miramonte Avenue, Marilyn and Lincoln drives.
NEIGHBORHOOD ASSOCIATION: Eastern Varsity Park Neighborhood Association, Lilly Yi, coordinator, lilly_yi@yahoo.com
PARKS: Varsity Park, Duke Way and Jefferson Drive; Cuesta Park, Cuesta Drive
POST OFFICE: Blossom Valley, 1768 Miramonte Ave.
PRIVATE SCHOOLS (NEARBY): St. Joseph Catholic School, 1120 Miramonte Ave.; St. Francis High School, 1855 Miramonte Ave.
PUBLIC SCHOOLS: (Eligibility for school districts depends on resident's address) Los Altos School District — Springer Elementary School, Blach Intermediate School; Mtn. View-Whistman School District — Bubb Elementary School, Graham Middle School; Mtn. View-Los Altos Union High School District — Los Altos or Mountain View high schools
SHOPPING: Blossom Valley Shopping Center, Miramonte Avenue and Cuesta Drive; Rancho Shopping Center, Foothill Expressway and Springer Road; Grant Road Plaza Shopping Center, Grant Road and Phyllis Avenue
CLICK HERE to view current Blossom Valley Listings