The Willows, Menlo Park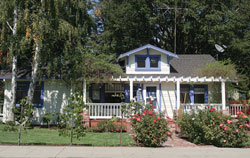 The Willows, bordered by Willow Road, Highway 101 and East O'Keefe Street, Middlefield Road and San Francisquito Creek, was known as North Palo Alto following the Depression. Developer Si Simon built a series of "Simon Built" homes along Central Avenue.
In 1953, after the incorporation of Menlo Park, and with its contemporary borders, the area was given its present name.
Residents say there's no tract feeling in most of the area — but many mature trees and rambling, twisty roads.
FACTS
FIRE STATION: 300 Middlefield Road, Menlo Park
LOCATION: West of U.S. Hwy. 101 and south of Willow Road to San Francisquito Creek
NEIGHBORHOOD ASSOCIATION: Willows_neighborhood@yahoogroups.com
PARK: Willow Oaks Park, Willow Road near Gilbert Avenue, Menlo Park
PRIVATE SCHOOLS: German-American School of San Francisco, 275 Elliott Drive, Menlo Park
PUBLIC SCHOOLS: Menlo Park City Elementary School District — Laurel School, 95 Edge Road, Atherton; Encinal School, 195 Encinal Ave., Menlo Hillview Middle School, 1100 Elder Ave., Menlo Park
Sequoia Union High School District — Menlo-Atherton High School, 555 Middlefield Road, Atherton
SHOPPING: Willow Road
CLICK HERE to view current The Willows Listings