University Heights, Menlo Park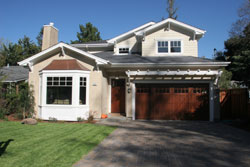 University Heights feels like a little urban oasis where residents can leave their cars behind and walk to local stores, restaurants and schools.
Ironically, many commuters drive through the neighborhood, which is why there are so many partial fences blocking the roads, speed bumps and extra signs posted to slow down traffic in the busy corridor.
The unincorporated part of San Mateo County where neighbors live close together on tree-lined streets with well-manicured lawns is alternately called Menlo Heights, West Menlo Park, and University Heights. The area features a business district along Alameda de las Pulgas, and easy access to Sharon Heights. The neighborhood is bordered by Las Lomitas and La Entrada public schools, and Phillips Brooks, a private school.
Local restaurants provide another option for social interaction. The range is wide, going from an informal family-friendly atmosphere found at older establishments such as the Dutch Goose and Lutticken's deli, to pizza at Round Table or Avanti, casual dining at the newer Lulu's Taqueria, or fancier fare at Flea Street Cafe, another long lasting fixture in the neighborhood. Starbucks may be one of the newer additions to the commercial strip, but it attracts foot and commuter traffic.
FACTS
CHILD CARE & PRESCHOOLS: Children's Creative Learning Center, Las Lomitas School, 299 Alameda de las Pulgas, Atherton; Littlest Angels Preschool, Bethany Lutheran Church, 1095 Cloud Ave., Menlo Park; The Phillips Brooks School, 2245 Avy Ave., Menlo Park; University Heights Montessori Children's Center, 2066 Avy Ave., Menlo Park
FIRE STATION: 3322 Alameda de las Pulgas, Menlo Park
LOCATION: East and West of Alameda de las Pulgas to Altschul Avenue to the west; North Lemon Avenue and Santa Cruz Avenue
PRIVATE SCHOOLS: Phillips Brooks School, 2245 Avy Ave., Menlo Park; Trinity School, 2650 Sand Hill Road, Menlo Park
PUBLIC SCHOOLS: Las Lomitas School District — Las Lomitas School, 299 Alameda de las Pulgas, Atherton; La Entrada School, 2200 Sharon Road, Menlo Park
Sequoia Union High School District — Menlo-Atherton High School, 555 Middlefield Road, Atherton
SHOPPING: Alameda de las Pulgas, Sharon Heights
CLICK HERE to view current University Heights Listings