Suburban Park, Menlo Park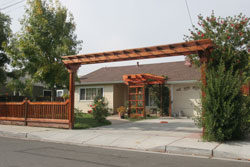 The 240 homes in the neighborhoods of Suburban Park, Lorelei Manor and Flood Triangle are three distinct neighborhoods linked by geography. Flood Park, 23 acres dotted with oak and bay trees, is the centerpiece of the three communities enclosed by Marsh Road, Bay Road and Highway 101.
Current hot topics are the proposed Dumbarton Rail Project as well as a Hetch Hetchy repair project that impacts the greenbelt at the entrance to the area. Lorelei Manor fought for and won a zoning overlay that is specific to neighborhood needs. The typically 1/8-acre lots are smaller than those in most of Menlo Park.
Flood Triangle has through traffic, which the cul-de-sac configurations of Lorelei Manor and Suburban Park discourage.
FACTS
CHILDCARE & PRE SCHOOLS: James B. Flood School, 320 Sheridan Ave., Menlo Park
FIRE STATION: 300 Middlefield Road, Menlo Park
LOCATION: Between Marsh Road, U.S. Hwy. 101 and Bay Road
NEIGHBORHOOD ASSOCIATIONS:
Lorelei Manor: Salim Shaikh, president, 650-326-6536
Suburban Park: Co-presidents Susan Arrington 650-321-7996, Kristin Campbell
650-328-9897
PUBLIC SCHOOLS:
Menlo Park City Elementary School District — Laurel School, 95 Edge Road, Atherton; Encinal School, 195 Encinal Ave., Menlo Park; Hillview Middle School, 1100 Elder Ave., Menlo Park
Sequoia Union High School District — Menlo Atherton High School, 555 Middlefield Road, Atherton

SHOPPING: Marsh Manor
CLICK HERE to view current Suburban Park Listings