Stanford Weekend Acres, Menlo Park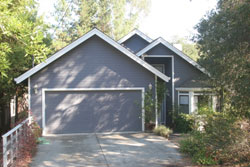 Tucked between a busy traffic corridor on Alpine Road on the one side and San Francisquito Creek and the Stanford Golf Course on the other, Stanford Weekend Acres is easy to miss. Some seven short streets make up the San Mateo County neighborhood, but in many ways they feel independent of each other.
Mosaic pottery and a vintage washer decorate some front lawns, giving the street a somewhat funky appearance. Every Fourth of July the neighbors band together for a block party, and in between, they keep up an active e-mail correspondence.
FACTS
CHILD CARE & PRESCHOOLS: Trinity School, 2650 Sand Hill Road, Menlo Park
FIRE STATION: California Department of Forestry, but closest station is Menlo Park Fire District, 3322 Alameda de las Pulgas, Menlo Park
LOCATION: Between Alpine Road and San Francisquito Creek and south of Stowe Lane, between Stanford Linear Accelerator and Stanford Golf Course
PUBLIC SCHOOLS: Las Lomitas School District — Las Lomitas School, 299 Alameda de las Pulgas, Atherton; La Entrada School, 2200 Sharon Road, Menlo Park
Sequoia Union High School District — Menlo-Atherton High School, 555 Middlefield Road, Atherton
SHOPPING: Ladera Country Shopper, Stanford Shopping Center
CLICK HERE to view current Stanford Weekend Acres Listings