Sharon Heights, Menlo Park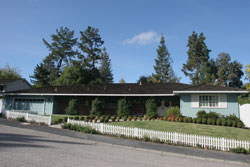 Residents of Sharon Heights are both secluded by an abundance of trees and given easy access to Highway 280 and a bustling retail area.
Bordered by Alameda de las Pulgas, Santa Cruz Avenue, Sand Hill Road and the Sharon Heights Golf Club, the 574-acre neighborhood sits atop the hills of West Menlo Park.
The location makes for an easy trip to Stanford Hospital, Stanford Shopping Center and downtown Menlo Park.
Sharon Heights was constructed on land once belonging to William Sharon, the developer of San Francisco's Palace Hotel and a former U.S. senator from Nevada. Sharon came to San Francisco during the gold rush in 1849, quickly establishing himself as one of California's richest men. One of his homes included a mansion in Menlo Park, known as "Sharon Heights."
Developed for residential use by Duncan McDonald and Mark Radin in the 1960s, the land now holds a variety of homes, condominiums and apartments. A good number of apartment buildings and condos are located close to the entrances along Sharon Park Drive. Redevelopment in the recent years has led to a wide range of homes. They vary from ranch-style and two-story homes to lavish mansions reminiscent of a Tuscan villa and the White House.
A number of the hilly streets are divided by lush medians, full of trees and other greenery. Well manicured lawns front the homes in this tidy neighborhood.
The proximity to schools and parks has made Sharon Heights a haven for families raising small children. The duck pond at Sharon Park gets the attention of many, children and adults alike. And the parents' choice of Phillips Brooks School, Trinity School, Las Lomitas School, La Entrada School and Menlo-Atherton High School is one of the main attractions to the neighborhood.
FACTS
CHILD CARE & PRESCHOOLS: Trinity School, 2650 Sand Hill Road, Menlo Park
FIRE STATION: 3322 Alameda de las Pulgas
LOCATION: Sand Hill Road and Hwy. 280; Santa Cruz Avenue and Alameda de las Pulgas
NEIGHBORHOOD ASSOCIATION: Sharon Heights Homeowners' Association, John Sakrison, president, 650-854-4487
PARKS: Sharon Park, Sharon Park Drive; Sharon Hills Park, Valparaiso Avenue at Altschul Avenue
PRIVATE SCHOOLS: Phillips Brooks School, 2245 Avy Ave.; Trinity School, 2650 Sand Hill Road
PUBLIC SCHOOLS: Las Lomitas School District — Las Lomitas School, 299 Alameda de las Pulgas, Atherton; La Entrada School, 2200 Sharon Road, Menlo Park
Sequoia Union High School District — Menlo-Atherton High School, 555 Middlefield Road, Atherton
SHOPPING: Sharon Heights Shops
CLICK HERE to view current Sharon Heights Listings