Park Forest, Menlo Park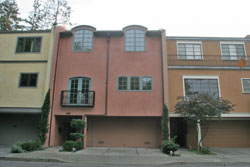 Tucked between El Camino Real and the railroad tracks lies a community with the feel of an urban European neighborhood. Most people don't realize it is even there.
Organized into three groupings, Park Forest is bordered by Stone Pine Lane and Buckthorn Way, and surrounded by Atherton. Within close proximity are a hair salon, pharmacist, exercise studio and neighborhood fixture Atherton Gallery. There is even a psychotherapist in the nearby commercial district.
Built 30 to 45 years ago, the 2,500 to 3,500 square foot homes are designed in the International Style, or Bauhaus tradition.
Most of the homes, which were built by individual builders, have been remodeled, some quite extensively. Each community has its own grove of stately redwood trees, a swimming pool and garden, creating a park-like setting. Summer neighborhood potlucks are held in the common garden areas.
Professionals have largely come here to downsize. At or near retirement, with empty nests, many have come here for all the comforts of their former larger homes, with fewer hassles, they say.
FACTS
CHILD CARE & PRESCHOOLS: The Playschool, Holbrook-Palmer Park, 150 Watkins Ave., Atherton; Trinity School Early Childhood Program at Holy Trinity Church, 330 Ravenswood Ave., Menlo Park
FIRE STATION: 700 Oak Grove Ave., Menlo Park
LOCATION: El Camino Real to Southern Pacific Railroad tracks; Buckthorn to Stone Pine lanes
NEIGHBORHOOD ASSOCIATION: Park Forest 1 Homeowners Association, Sagal Patel, president, 650-326-9010; Park Forest 2 Homeowners Association, Kim Wiscaol, president; Park Forest 3 Homeowners Association, Debbie Koelling, president, 650-322-7047
PARK: Holbrook-Palmer Park, 150 Watkins Ave., Atherton
PUBLIC SCHOOLS: Menlo Park City Elementary School District — Laurel School, 95 Edge Road, Atherton; Encinal School, 195 Encinal Ave., Menlo Park; Hillview Middle School, 1100 Elder Ave., Menlo Park
Sequoia Union High School District — Menlo-Atherton High School, 555 Middlefield Road, Atherton
SHOPPING: Downtown Menlo Park, Stone Pine Center
CLICK HERE to view current Park Forest Listings