Menlo Oaks, Menlo Park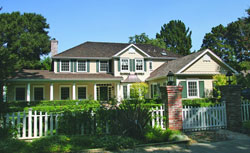 Over the years, Menlo Oaks has fought to keep its country feel in the face of pressures from bike-lane activists, "McMansions" and even the Catholic Church.
This slice of land sandwiched between Menlo Park and Atherton is dominated by the 83-year-old private Peninsula School and its impressive Victorian main building.
Directly to the neighborhood's west is the huge campus of Menlo-Atherton High School. It's just a few minutes from downtown Menlo Park, downtown Palo Alto and Highway 101. But it's the spirit of independence that makes the area special.
Tree houses and large play structures dot the backyards, and many neighbors hit the streets each evening to walk their dogs. Neighbors even gather for a picnic each year to congregate and celebrate their treasured environs.
FACTS
CHILD CARE & PRESCHOOLS: Peninsula School, 920 Peninsula Way, Menlo Park; The Roberts School, 641 Coleman Ave., Menlo Park
FIRE STATION: 300 Middlefield Road, Menlo Park
LOCATION: Ringwood Avenue to Berkeley Avenue, adjacent to the Veterans Administration Medical Center; Bay Road to Arlington Way
NEIGHBORHOOD ASSOCIATION: Menlo Oaks District Association, Holly Still, president, 650-322-9888 E-mail: president@menlo-oaks.org
PARK: Flood County Park, 215 Bay Road, Menlo Park; Seminary Oaks Park, Santa Monica Avenue near Middlefield Road, Menlo Park; Willow Oaks Park, Willow Road near Gilbert Avenue, Menlo Park
PRIVATE SCHOOLS: Peninsula School, Peninsula Way, Menlo Park
PUBLIC SCHOOLS: Menlo Park City Elementary School District — Laurel School, 95 Edge Road, Atherton; Encinal School, 195 Encinal Ave., Menlo Park; Hillview Middle School, 1100 Elder Ave., Menlo Park
Sequoia Union High School District — Menlo-Atherton High School, 555 Middlefield Road, Atherton
SHOPPING: Downtown Menlo Park
CLICK HERE to view current Menlo Oaks Listings