Linfield Oaks, Menlo Park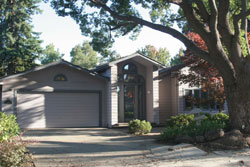 Linfield Oaks consists of 80 acres bordered by San Francisquito Creek, Middlefield Road, Ravenswood Avenue and Alma Street. The area was developed in the early 1950s by Claude and Ray Lindsay as a planned community with single family homes, garden apartments, and at the borders, campus-style office space such as Sunset Magazine, Western Headquarters of the U.S. Geological Survey and Stanford Research Institute.
The neighborhood is a nexus for many people's interests because of the Recreation Center between Alma and Laurel streets and the proximity to downtown Menlo Park and Palo Alto, he adds, but speed tables have lessened the impact of increased traffic.
FACTS
CHILD CARE AND PRESCHOOLS: Geokids Day Care Center, 345 Middlefield Road, Menlo Park; Burgess After-school Program, Burgess Kindercat Program, Menlo Park Recreation Center, 701 Laurel St., Menlo Park, Menlo Children's Center, 801 Laurel St. Menlo Park
FIRE STATION: 300 Middlefield Road, Menlo Park
LOCATION: West of Middlefield Road to Alma Street and San Francisquito Creek to O'Keefe Street
NEIGHBORHOOD ASSOCIATION: E-mail coordinator: JoAnne Goldberg, 650-327-4716
PARK: Burgess Park, Alma Street and Mielke Drive, Menlo Park
PUBLIC SCHOOLS: Menlo Park City Elementary School District — Laurel School, 95 Edge Road, Atherton; Encinal School, 195 Encinal Avenue, Menlo Park; Hillview Middle School, 1100 Elder Avenue, Menlo Park
Sequoia Union High School District — Menlo Atherton High School, 555 Middlefield Road, Atherton
SHOPPING: Downtown Menlo Park
CLICK HERE to view current Linfield Oaks Listings