Felton Gables, Menlo Park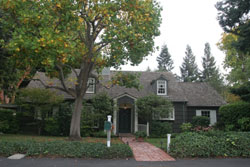 Tucked between Encinal Avenue, Holbrook Palmer Park and the railroad tracks, and buffered from El Camino by a commercial development is a neighborhood that retains the name of one of its first residents: Charles Norton Felton.
Senator Felton made his fortune in the Comstock Lode and settled in Menlo Park in the 1870's. He built "Felton Gables" a pink, two story mansion on 3.5 acres on the north side of Encinal and there he entertained presidents and royalty. President Harrison made a quick visit in l891 — when the population of Menlo Park was 400.
FACTS
CHILD CARE & PRESCHOOLS: The Playschool, Holbrook Palmer Park, 150 Watkins Ave., Atherton; Trinity Early Childhood Program, 330 Ravenswood Ave., Menlo Park
FIRE STATION: 32 Almendral Ave., Atherton
LOCATION: West of Southern Pacific Railroad tracks and south of Holbrook Palmer park, between Watkins and Encinal avenues
NEIGHBORHOOD ASSOCIATION: Felton Gables Homeowners' Association, Russ Peterson, president, 650-327-2450
PARK: Holbrook-Palmer Park, 150 Watkins Ave., Atherton
PUBLIC SCHOOLS:
Menlo Park City Elementary School District — Laurel School, 95 Edge Road, Atherton; Encinal School, 195 Encinal Ave., Menlo Park; Hillview Middle School, 1100 Elder Ave., Menlo Park
Sequoia Union High School District — Menlo-Atherton High School, 555 Middlefield Road, Atherton
SHOPPING: Downtown Menlo Park
CLICK HERE to view current Felton Gables Listings