Belle Haven, Menlo Park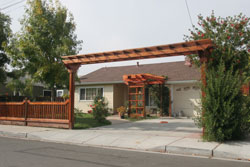 The only such housing project undertaken in this country during the Great Depression, Belle Haven's original units — single family homes, apartments and duplexes built by Bohannon — were conceived as an affordable housing development for the white working class.
Nearly 70 years later, the area has diversified — first, by African Americans in the 1950s, then by Hispanics and Pacific Islanders in the 1980s. By 2000, Hispanics became the dominant ethnic group, but the neighborhood is still truly multi-ethnic.
A 540-acre triangle bordered by the Peninsula Corridor Joint Powers Board Railroad to the north, Willow Road on the east and Highway 101 on the south Belle Haven remains predominantly residential, but with more public amenities than previously built in.
Parks, schools, a library and community centers enhance the neighborhood. And thanks to the 1991 expansion of the redevelopment agency, a small shopping center opened at the corner of Willow Road and Hamilton Avenue. Residents now enjoy restaurants and services at nearby Sun Microsystems.
FACTS
CHILD CARE AND PRESCHOOLS: Belle Haven Child Development Center, 410 Ivy Drive, Menlo Park; Belle Haven After-school Program, 415 Ivy Drive, Menlo Park; Family Connections, 415 Ivy Drive, #14, Menlo Park
FIRE STATION: 1467 Chilco St., Menlo Park
LOCATION: East of U.S. Highway 101 between Willow Road and Southern Pacific Railroad tracks, near Terminal Avenue
PARKS: Kelly Park, Terminal Avenue near Del Norte Avenue, Menlo Park; Market Place Park, Ivy Drive and Market Place, Menlo Park
PRIVATE SCHOOLS: Beechwood School, 50 Terminal Ave., Menlo Park
PUBLIC SCHOOLS: Ravenswood City School District — Belle Haven Elementary School, 415 Ivy Drive, Menlo Park
Sequoia Union High School District — Menlo Atherton, Carlmont or Woodside High School
SHOPPING: Corner of Willow Road and Hamilton Avenue
CLICK HERE to view current Belle Haven Listings