Allied Arts/Stanford Park, Menlo Park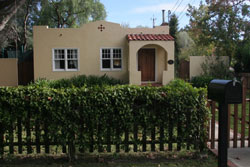 With its old-town charm, Allied Arts/Stanford Park seems a world away from the hustle of El Camino Real to its east, and the promise of new high-tech concerns such as Tesla Motors. The cutting-edge electric-car company hosts a show room of sports cars just across El Camino.
But tucked inside the neighborhood, a country feel remains. A lack of sidewalks results in a perfect place for strolling among 1925 bungalow homes, attractive flower gardens and fruit trees on roads named after colleges — Yale Road, Cambridge Avenue, Princeton Road, Cornell Road and Harvard Avenue.
Lamp-topped pillars mark the entrance to the neighborhood. And old and shady trees grace the streets.
Small enough that one could run laps around it, the neighborhood is marked by four distinct streets: Middle Avenue on the north, San Francisquito Creek to the south and Allied Arts Guild on Arbor Road to the west.
Allied Arts Guild is a centerpiece of the neighborhood and a main attraction. The Spanish-Colonial designed complex came into existence in 1929 and developed as an artisan's workspace of studios and shops.
FACTS
CHILD CARE & PRESCHOOLS: Menlo-Atherton Cooperative Nursery School, 802 Middle Ave.
FIRE STATION: 700 Oak Grove Ave.
LOCATION: Middle Avenue to San Francisquito Creek; Arbor Road to El Camino Real
PARK: Nealon Park, 800 Middle Ave.
PUBLIC SCHOOLS: Menlo Park City Elementary School District — Oak Knoll School; Hillview Middle School; Sequoia Union High School District — Menlo-Atherton High School, 555 Middlefield Road, Atherton
SHOPPING: Downtown Menlo Park, Stanford Shopping Center
CLICK HERE to view current Allied Arts Listings