Woodland Acres / The Highlands, Los Altos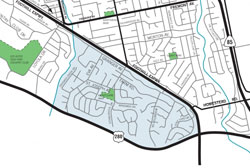 Woodland Acres, the community bordered by Beechwood Lane and Permanente Creek, spills into the Highlands yet feels separate. Original owner Edward Hohfeld planted hundreds of trees back when the area was called Toyon Farms. In the '50s the land was developed into 120 half-acre-plus lots, which now feature many new two-story homes that are high enough to peek through the branches and take advantage of the sweeping views of the Western Hills and Bay.
FACTS
CHILDCARE AND PRESCHOOLS (NEARBY): Children's Creative Learning Center, 2310 Homestead Road, Suite E, Los Altos
FIRE STATION: No. 16, 765 Fremont Ave.
LIBRARY: Woodland, 1975 Grant Road
LOCATION: between Foothill Expressway and Interstate 280, Beechwood Lane and Permanente Creek
NEIGHBORHOOD ASSOCIATION: Kay Mazzola, president, Woodland Acres Association
PARKS: Montclaire Park, St. Joseph Ave.; (nearby) Grant Park, 1575 Holt Ave.; Rancho San Antonio Open Space Preserve, Cristo Rey Drive
POST OFFICE: Loyola Corners, 1525 Miramonte Ave.
PRIVATE SCHOOL: St. Simon Catholic School, 1840 Grant Road
PUBLIC SCHOOLS: Cupertino Union School District — Montclaire Elementary School, Cupertino Middle School; Fremont Union High School District — Homestead High School
SHOPPING: Foothill Crossing, Homestead Road; Loyola Corners; Rancho Shopping Center
CLICK HERE to view current Woodland Acres Listings